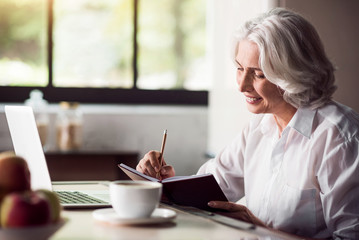 Medium Length Hairstyles for Women Over 60
A woman can look young and fabulous at any age. You don't have to do a Botox injection or to lose weight to look beautiful. Very often changing or spicing up the look is all you need. You can buy a new dress or you can experiment with your hairstyle. If you prefer both, that's even better. So, go for a dress and a new haircut.
Buying a dress is definitely easier than trying a new haircut, especially if you have long or medium hair and don't want to cut it short yet. Actually, that's not a problem. If you have long hair, you can try a medium length hairstyle, which is neither too short nor too long. If you already have medium length hair, you can try to experiment with it by doing new hairstyles every day. Which hairstyles are going to suit you better? Let's have a look.
We've prepared four fabulous medium length hairstyles for women over 60 you can try doing right now.
Medium Length Hairstyles for Mature Women
Don't get upset your hair goes thinner and gets greyer with age. It is a normal process, which shouldn't make you believe that there is no beautiful hairstyle for you to afford when over 60. Even mature women, who don't own thick and long braid, can create beautiful looks with medium length hair.
So, here're the top four hairstyles you can do with medium hair.
Get a long bob with layers. A long bob is a very sophisticated and classic hairstyle. Adding layers to it allows you to play with the haircut more. It gives more texture and allows to create different variations of the same hairstyle in a few minutes. For example, you can add more volume and height to it, you can push it back or flick it out and under.

Play with your hair by putting the left side of it in your brow and pulling the right side back. Secure the right side with a hairspray.

Pull the front strands of your hair back on both sides. Secure with bobby pins. Pull out a few strands in the front to create an easy messy look. To make this hairstyle even more interesting, you can take bobby pins decorated with pearls or stones.

Make a low ponytail and secure it with an elastic band. Mess it up a little bit for a more relaxed look. Then, spray your hair with a hairspray. Take a decorative hair comb and put it in. Actually, decorative combs can spice up even the simplest hairstyles. So, definitely get one.
As you can see, it is easy to look fabulous and stylish even after 60. So, go ahead, try a new hairstyle, and feel great.